Bacterial resistance to antibiotics is a major and fast-growing health concern

Pharma Holdings is addressing the problem with its drugs derived from host defence peptides through Structure-activity-relationship studies on Lactoferricin.
Pharma Holdings' infection drug candidate degrades the membranes of microorganisms
Pharma Holdings' current focus is on topical treatment of infections and nasal eradication of staphylococci pre-operatively
Pharma Holdings' infection drug candidate has proven efficacy against a broad range of resistant organisms
About Lytixar™ (LTX-109)
LTX-109 is an investigational antimicrobial drug with a novel membrane-lysing mechanism of action, based on the biological principle of innate immune effectors, lytic peptides. The drug has a rapid bactericidal lytic activity. The drug has been tested in vitro and in vivo models and has undergone a comprehensive nonclinical safety and toxicology program and been studied in man in a Phase I study, and two phase I/IIa studies. The drug is in development as a treatment for bacterial skin infections, fungal infections and nasal decolonisation of MRSA.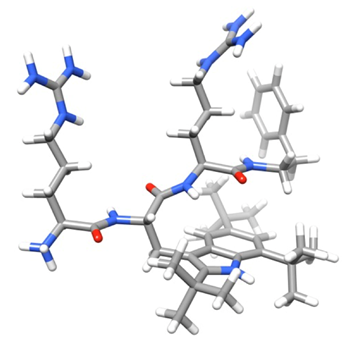 A synthetic protein fragment; a peptidomimetic
High stability against degradation
Produced in large scale
The antimicrobial mode of action of LTX-109 represents a highly beneficial strategy for killing bacteria and other microorganisms. The diagram below demonstrates the mechanism of action for LTX-109 lysis of bacterial membranes.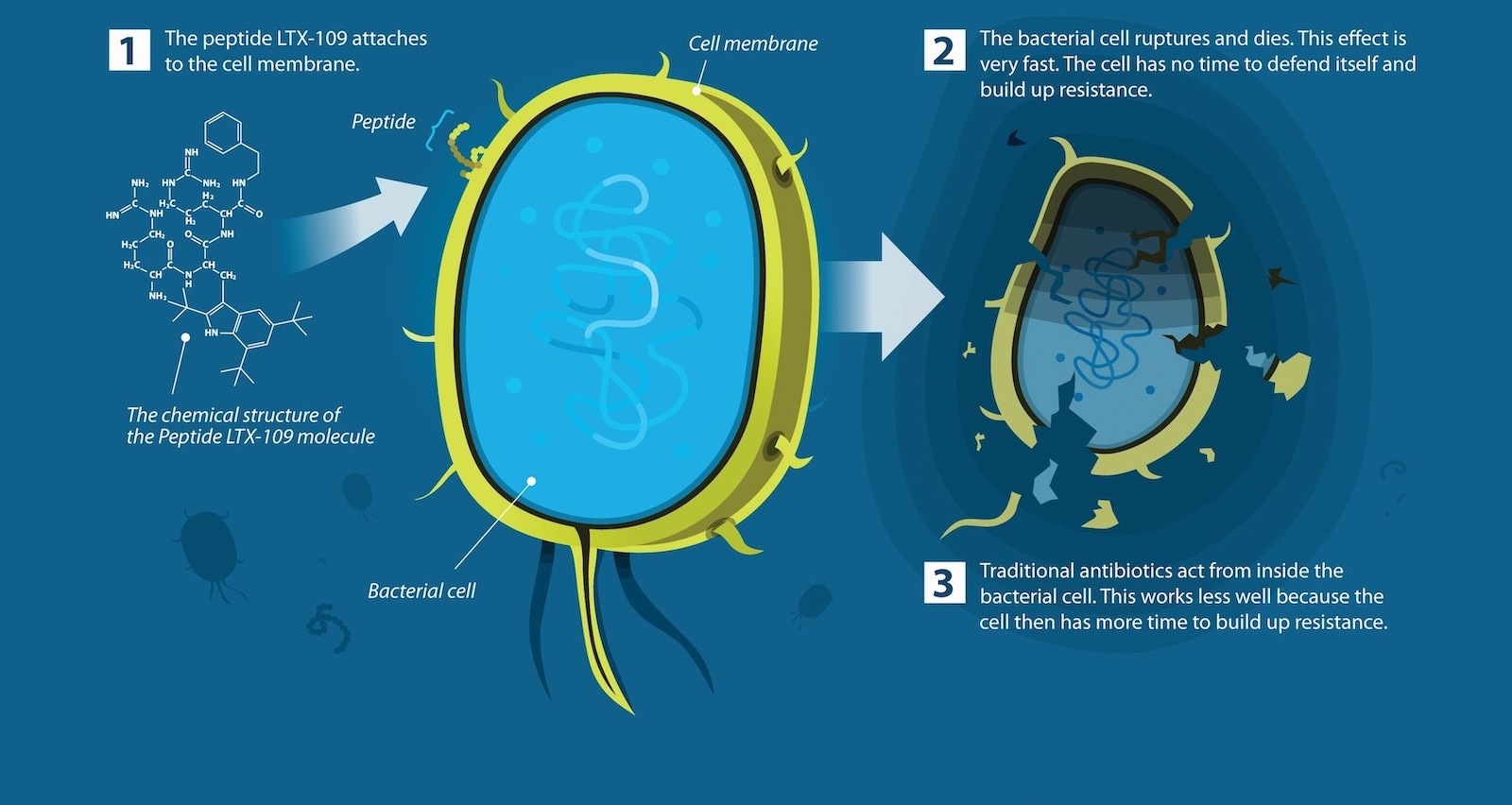 The mechanism of action on a more detailed level can be represented by the Shai-Matsuzaki-Huang mode of action of an antimicrobial peptide: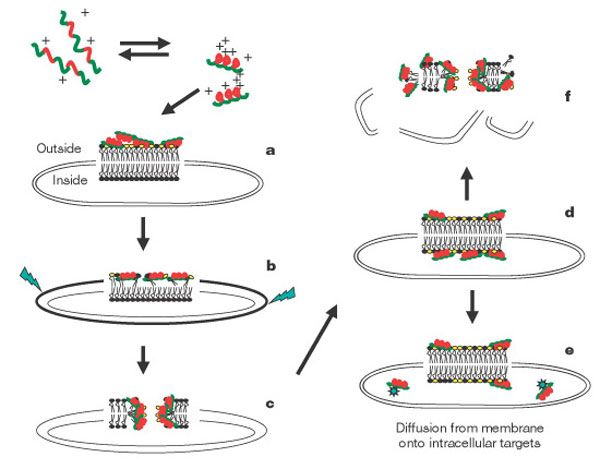 Antimicrobial peptides of multicellular organisms
Mechanism of lysing action. Illustration by Michael Zasloff, Department of Biochemistry and Biophysics, University of Pennsylvania School of Medicine, Philadelphia, Pennsylvania 19104-6059, USA
Lack of resistance development
In general, compounds acting on the cell membrane have low propensity for developing resistance. The occurrence of spontaneous resistance towards LTX-109 was studied by plating a heterogeneous mixture of bacteria. Neither in wild type, MRSA nor glycol peptide resistant Staphylococcus aureus was any spontaneous resistance observed. No signs of resistance development have been observed in 5 different Staphylococcus aureus strains after 14 passages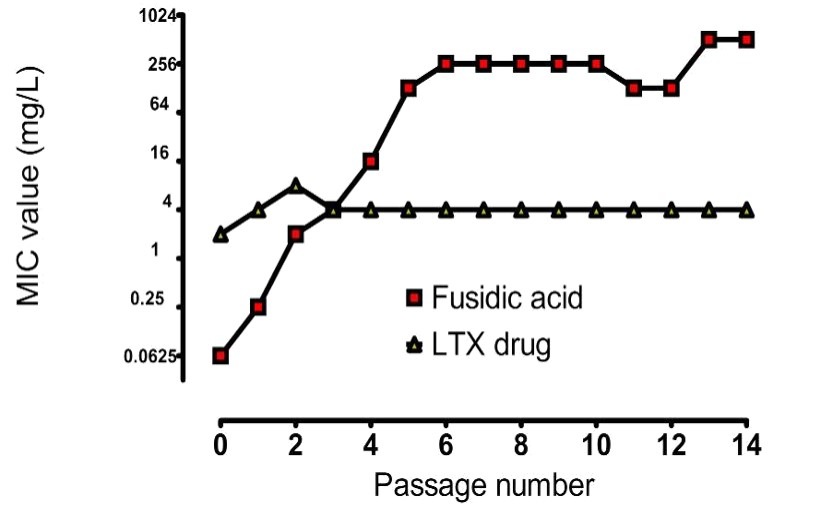 LTX-109 kills MRSA better than 'Gold Standard' drugs
Murine skin infection model (tape-stripping, ATCC 33591
Read-out: bact growth +9 hours after the first of 3 doses
Outstanding efficiency in animal models
In vivo efficacy has been investigated at Statens Serum Institut (SSI) in Copenhagen, Denmark, and NAEJA, Canada, using a well-documented skin infection model.
A skin lesion is infected on day one, and the infection allowed to develop for 24 hours. The drug and comparators are applied 3 times in a single day. LTX-109 is strongly bactericidal against all strains of Staphylococci tested, including both hospital-acquired and community-acquired MRSA (USA300).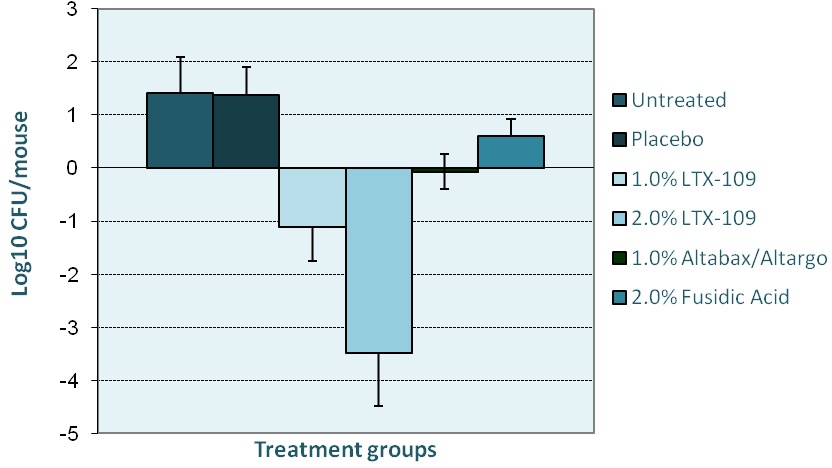 Highly effective on MRSA wound biofilm​

Green indicate living cells and red indicate dead cells
LTX-109 demonstrates a significant effect on MRSA round biofilm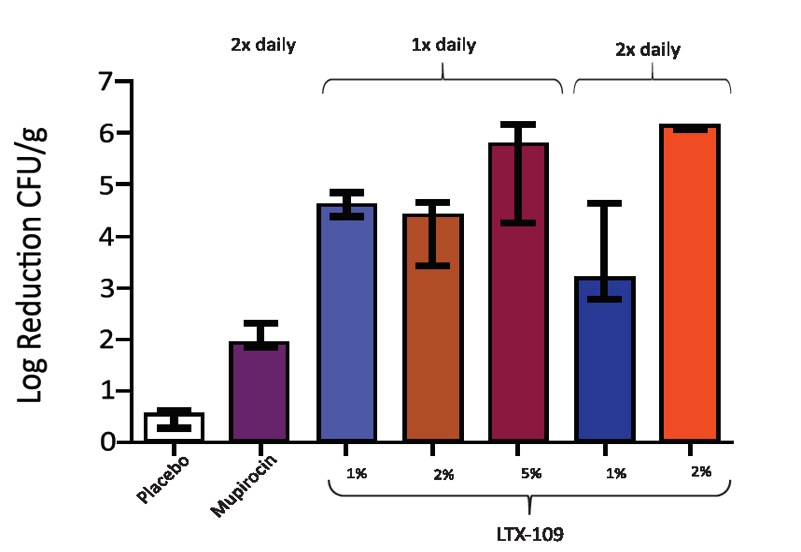 LTX-109 reduces CA-MRSA (USA300) significantly faster than Mupirocin
Tape-stripping and scalpel blade cut injury
TID treatment (every 3 hours)
Bacterial tissue load determined by CFU from skin biopsies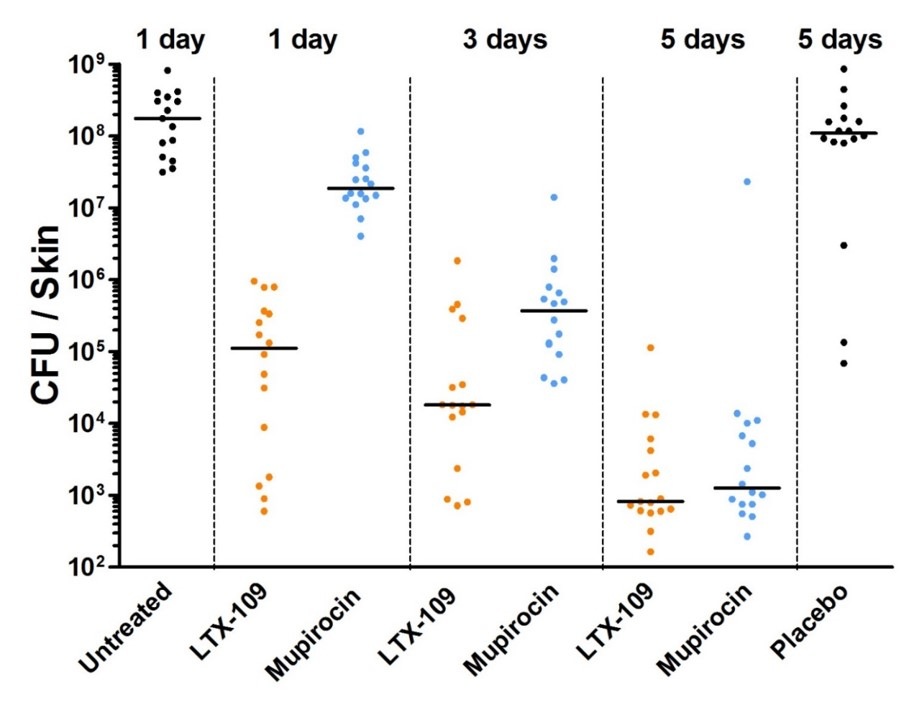 LTX-109 is as fungicidal as Amphotericin B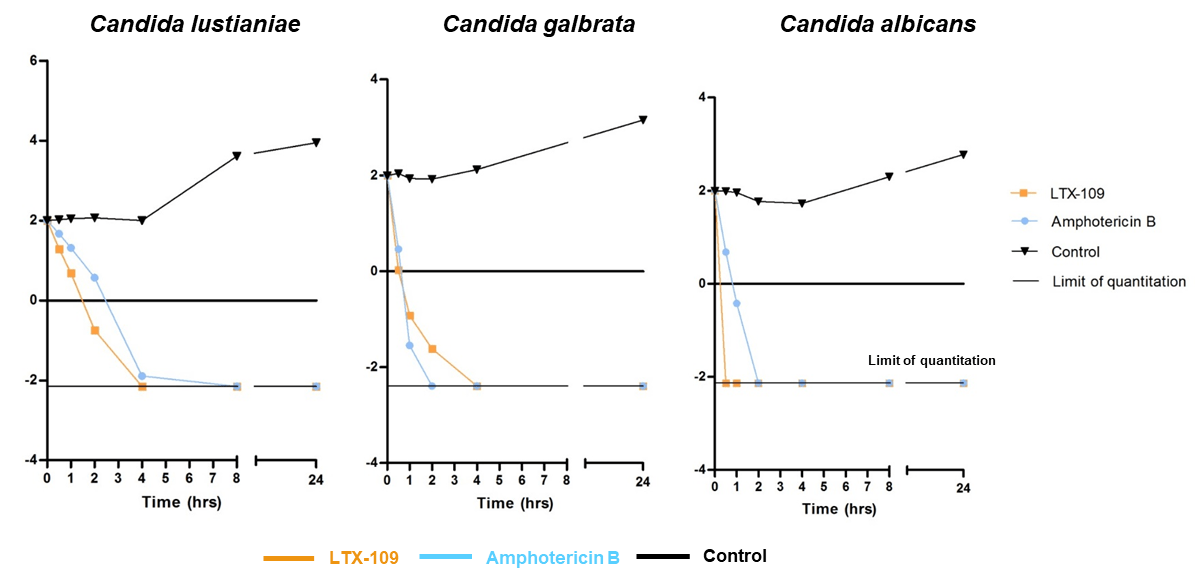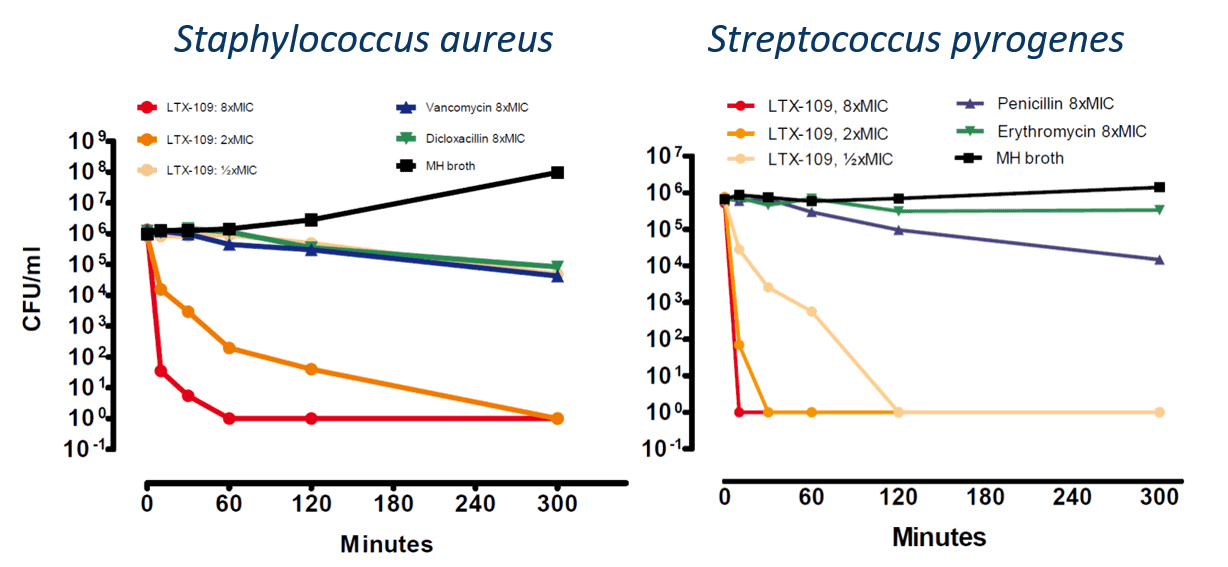 LTX-109 is rapidly bactericidal
The onset of LTX-109 activity is rapid and dependent on concentration.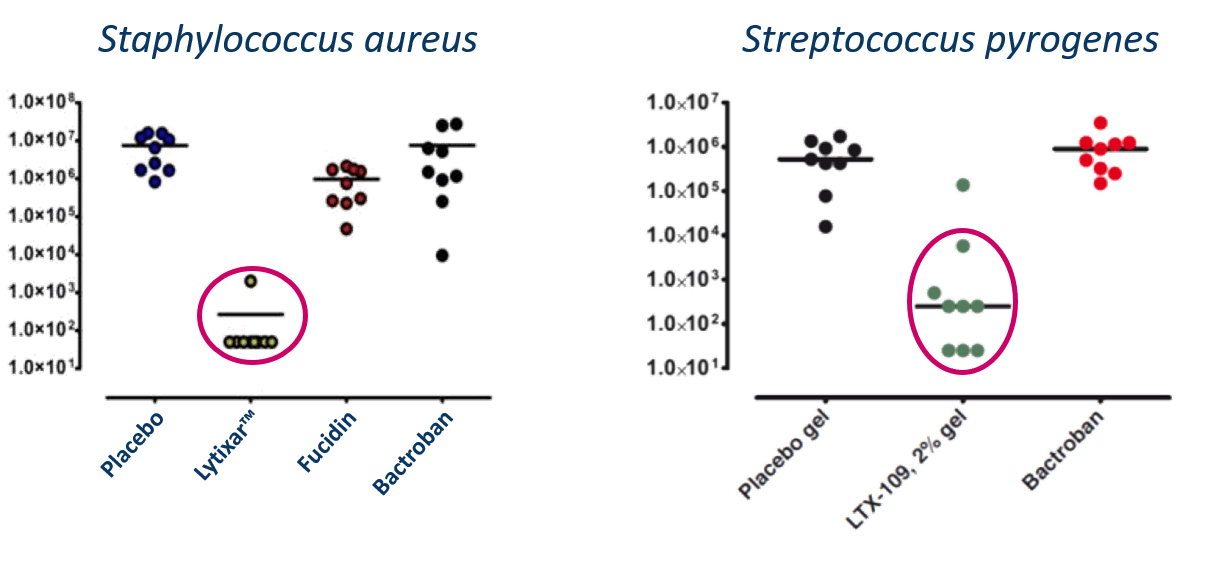 Rapid Killing Of Pathogens
LTX-109 acting on Staphylococcus aureus bacteria; Live (green) and dead (red). Time lapsing in minutes