Bacterial resistance to  antibiotics is a major and fast growing health problem
Pharma Holdings is addressing the problem with it's drugs derived from host defence peptides through Structure-activity-relationship studies on Lactoferricin.
Pharma Holdings' infection drug candidate degrades the membranes of microorganisms
Pharma Holdings' focus is on topical treatment of skin infections and nasal eradication of staphylococci, regardless of resistance
Pharma Holdings' infection drug candidate has proven efficacy against a broad range of resistant organisms
  Highlights LTX-109:
    A synthetic protein fragment; a peptidomimetic
    High stability against degradation
    Produced in large scale
    Low cost of synthesis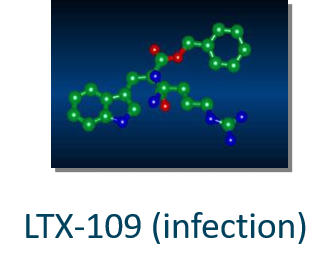 About Lytixar™ (LTX-109)
LTX-109 is an investigational antimicrobial drug with a novel membrane-lysing mechanism of action, based on the biological principle of innate immune effectors, lytic peptides. The drug has a rapid bacteriocidal lytic activity.  The drug has been tested in vitro and in vivo models, and has undergone a comprehensive nonclinical safety and toxicology program and been studied in man in a Phase I study, and two phase I/IIa studies. The drug is in development as a treatment for bacterial skin infections, fungal infections and nasal decolonisation of MRSA.